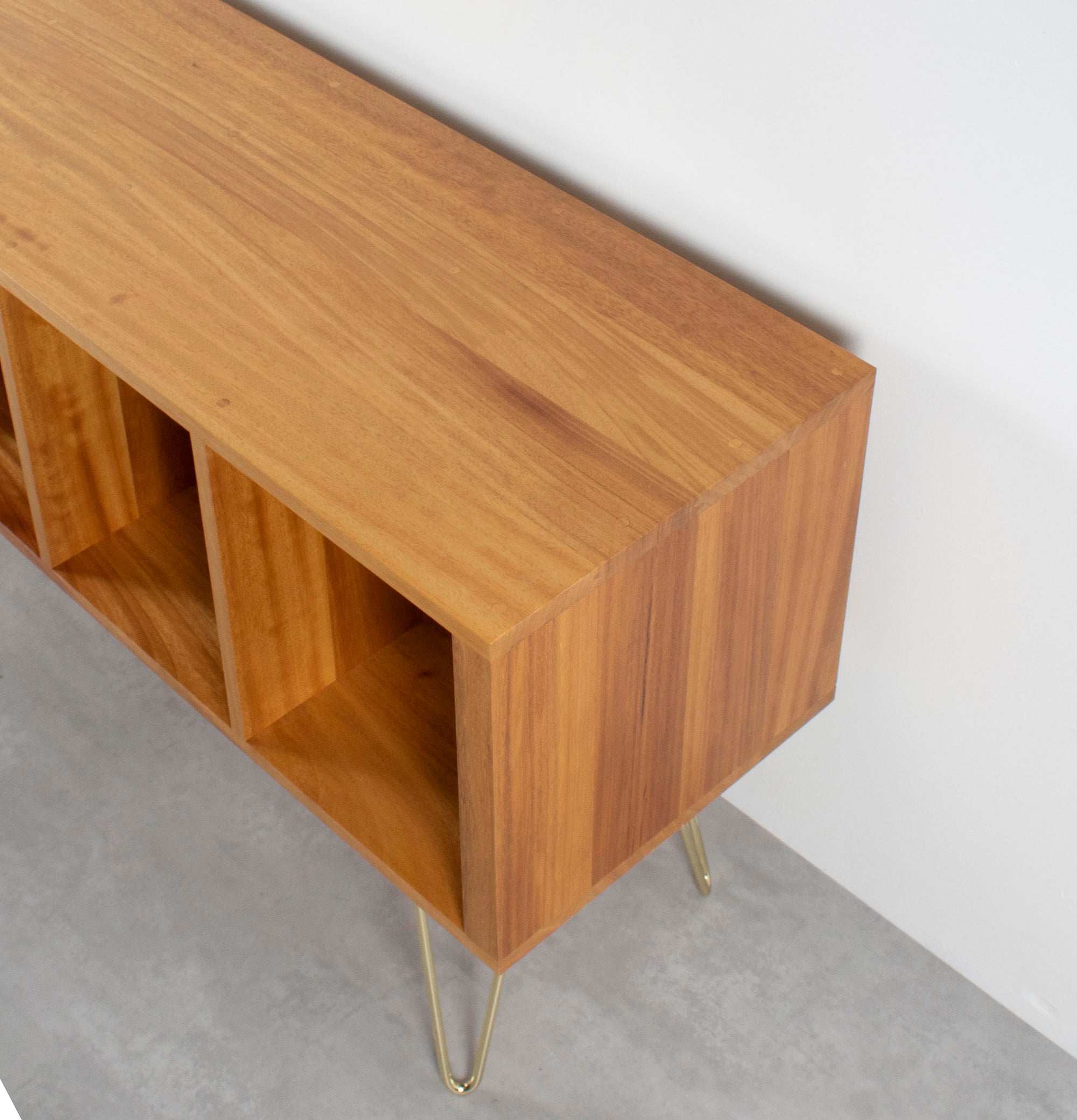 Iroko
Although unrelated to teak, iroko is sometimes referred to as "African teak" because of its similarity in strength, grain pattern and colour, and is often used instead of the real thing. It's probable that your patio furniture is made from iroko, not teak!
Sustainably sourced teak is extremely hard to get nowadays because of deforestation and illegal logging in Myanmar, so since iroko is a common FSC certified tropical hardwood it makes a great substitute. It works beautifully to complement a mid-century or vintage Scandinavian look with its dense, flecked grain and warm honey tones.
Iroko is more affordable than some of the other premium hardwoods like walnut, but you still get a 100% solid piece of furniture built from a beautiful hard timber that will stand the test of time. 
IROKO CHARACTERISTICS
The golden tones of iroko soften the minimal style of our designs, giving them a warm, natural character. The colour varies from light summery gold to a deep, warm bronze, and will darken with age, taking on a rusty brown hue. It has a shine in the grain, giving it a slightly iridescent, light reflecting quality. 
It ages quite quickly, so if you invest in a piece of furniture made from iroko you may get surprised by the appearance of light or dark marks in the first couple of months. This is perfectly normal and it just means you have to move things around on the surface so that it ages evenly. The difference can be dramatic and unsettling but it's ok! Just move that plant pot and it'll even out in no time. 
Explore some examples..
Most of the images of iroko furniture you see on our site are when it's freshly made, so expect it to darken over time.
CONDOR VINYL STORAGE
The Condor design is a simple, minimal design for storing vinyl records, shown here on classic, mid-century or square frame legs. 
Designed to house a generous record collection (from 250-400 LPs depending on the size), the clean lines of this solid wood, vinyl storage cabinet offer an understated, minimalist storage solution for your space. The polished brass shown here on the hairpin legs is an optional finish we offer. The colour and shine complements the wood tones and adds just a touch of sophistication. 
TECHNIC TURNTABLE STAND
Our Technic turntable stand design is also perfect as a multi-functional sideboard. It's shown here in a 140cm wide size in iroko, with minimal square grey steel legs. This is our most popular design, combining lots of record storage with an upper section that allows enough airflow for all but the most powerful amps. 
 CUSTOM STAINS ON IROKO 
Iroko can also be stained. The finish can't be matched exactly to other woods like vintage teak but the even grain and density mean that it is possible to approximate the colour of aged teak, mahogany or danish rosewood to coordinate with existing vintage mid century furniture. Here are a couple of examples of custom stains on iroko to give an idea of the colours that can be achieved:
Rich Mahogany Stain on a custom extra large Corston Turntable Stand
The rich mahogany stain on this large turntable stand/ storage unit works well with the natural grain of the wood. The low sheen finish differentiates it from traditional dark wood furniture, giving it a modern, contemporary finish that complements the minimal lines. 
Teak stain on a custom Kelston record player stand
The teak stain shown here has a natural, dark hue with fewer red tones than the rich mahogany or rosewood, bringing out more of the golden undertones and darker grain patterns. The colour is very similar to many vintage furniture pieces so it blends well with mid century originals. 
Other colours are available, and here are a couple of other samples to give you an idea of stain finishes for your iroko or teak furniture.
If you're looking for a specially made furniture design or custom size storage cabinet to perfectly fit that space you have check out our CUSTOM DESIGN page or CONTACT US.