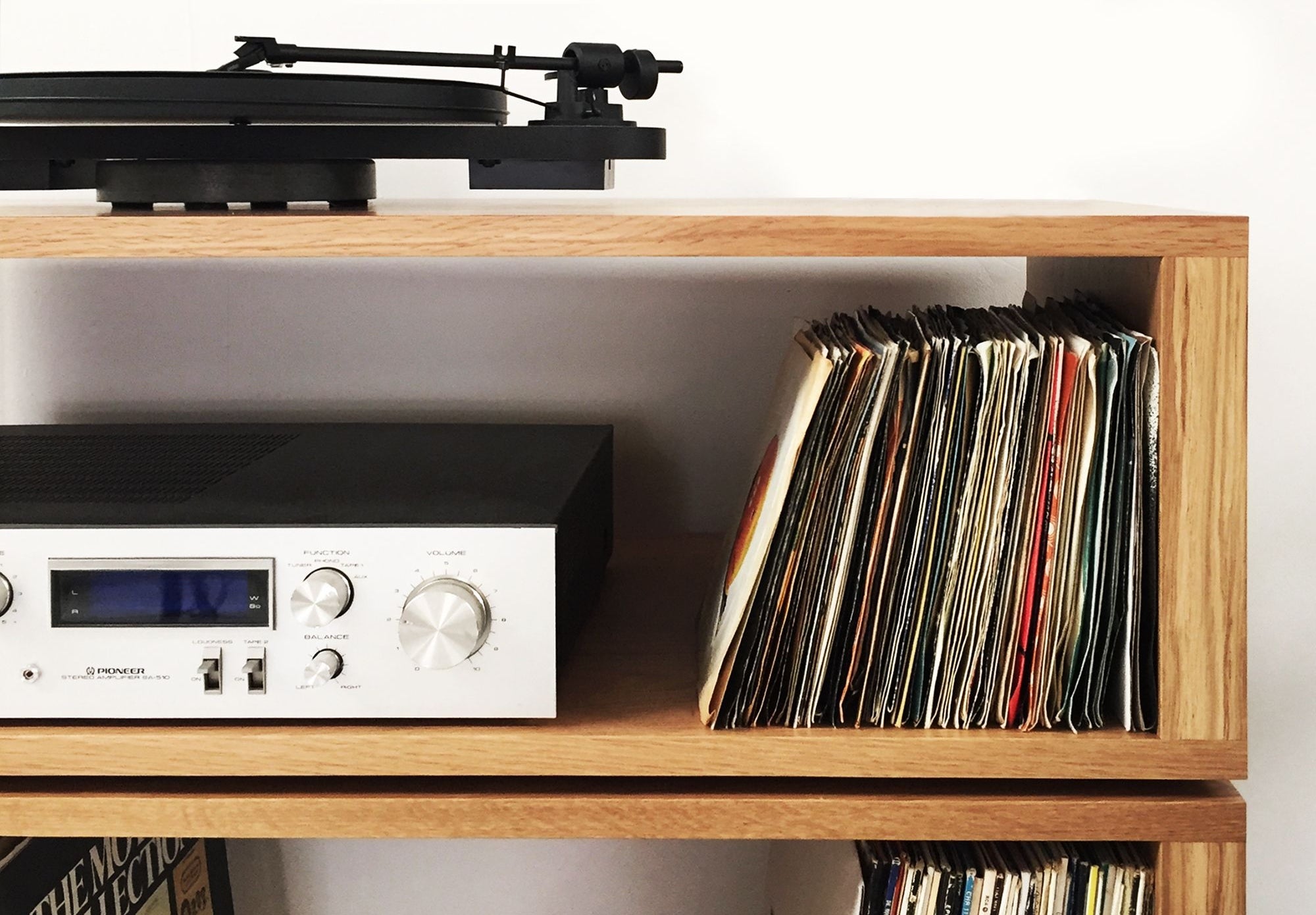 Our top five designs
At Urban Editions we create a collection of high-quality, customisable furniture with a minimalist, mid-century aesthetic. 
All our designs are made in the UK in small batches using high quality FSC certified hardwoods. Every piece in our solid wood furniture collection is made using traditional joinery techniques and is available in several sizes, finishes and leg options, to create the design solution that works for you.
We wanted to create a collection of contemporary furniture that celebrates the beauty and authenticity of solid wood furniture whilst also responding to the multi-faceted demands of twenty-first century life.
We feel we're delivering on this ambition, but don't just take our word for it - we've brought together our most popular designs to date...
CORSTON VINYL STORAGE CUBE SHELVING
"The shipping was unbelievably fast and the packaging superb-not a scratch! The craftsmanship and design also receives superb superlatives! I have over 5000 albums and was running out of storage, until your shelves arrived! They are currently housing my Beatles, Rolling Stones, and Eric Clapton collections-keeping it British in your honour!"
This Corston cube shelving has been designed with the serious vinyl enthusiast in mind. 
The clean lines of this design create a large capacity storage solution with a minimalist, streamlined look. The versatile design of this high-quality shelving means it can also double as a sideboard, bookshelf or room divider. 
It is made as two separate sections with special spacers designed to make the upper section 'float' above the lower section, giving it a slightly weightless appearance. 
CONDOR VINYL STORAGE CABINET ON MID CENTURY HAIRPIN LEGS
"The item received was really well packaged, easy to assemble (basically a hex key and bolts for the legs), but very heavy relative to it being solid timber. Its stunning and compliments our room exactly as we wanted. The workmanship is excellent, finishing clean and impressive and in life appears better than expected than in the photos."
This Condor vinyl storage cabinet will store your record collection in elegant, mid century modern style. Classic hairpin legs and clean, linear proportions give it a timeless, refined look that will look good in any room setting. 
The central partitions on this design allow large volumes of heavy weight vinyl to be supported in the vertical storage position. The opening height is 33cm (13.5"), designed to allow vinyl to be stored in protective plastic sleeves if required. 
It will fit between 280-450 vinyl records depending on the size. 
MARSTON WIDE COFFEE TABLE ON MINIMALIST SQUARE LEGS
"Quality is impeccable and I was amazed at the customer support throughout the whole process of getting things delivered."
This extra wide, low slung minimalist Marston wide coffee table combines contemporary design with the authenticity of solid natural wood.
Set on square frame legs with a modern, contemporary design, this solid wood table brings together practical multi functionality with a clean, streamlined finish. Its versatile design is available in a range of sizes so it can be easily adapted to fit your space and style. 
KELSTON RECORD PLAYER CABINET ON HAIRPIN LEGS
"The item arrived undamaged and with simple easy to follow instructions. The piece is well made with high quality beautiful wood. Highly recommend this store. Ruth was very communicative and helpful with updates."
This Kelston record player cabinet is designed as a premium storage solution for your vinyl collection, but its versatile design means it could also be used as a sideboard, drinks cabinet or for multimedia storage.
Its linear proportions and minimal hairpin legs give it an understated, mid century style. The lower component has four compartments ideal for accommodating 12" vinyl, while the upper opening is suitable for media equipment, Sky boxes and DVD players etc.
Depending on the size it will accommodate 250 - 450 vinyl records.
HENLEY TV STAND ON MINIMALIST SQUARE LEGS
"Beautifully crafted, very proud to have this piece in my home. No MDF, and love that it comes with guidelines on how to care for the wood. The unit comes well packed, you just have to attach the legs which isn't a problem.Excellent customer service, with Ruth replying to any queries quickly and efficiently. Just a brilliant company overall!"
Set on square frame legs with a streamlined, contemporary design, this Henley TV stand combines practical surface space with clean, linear proportions. Its versatile design means it can double as a coffee table, TV stand, low sideboard or bench. 
This design has an opening that is accessible from either side of the table, ideal for housing coffee table paraphernalia, the height also makes it perfect for a DVD player, Sky box, console or other media equipment or 7" vinyl records.