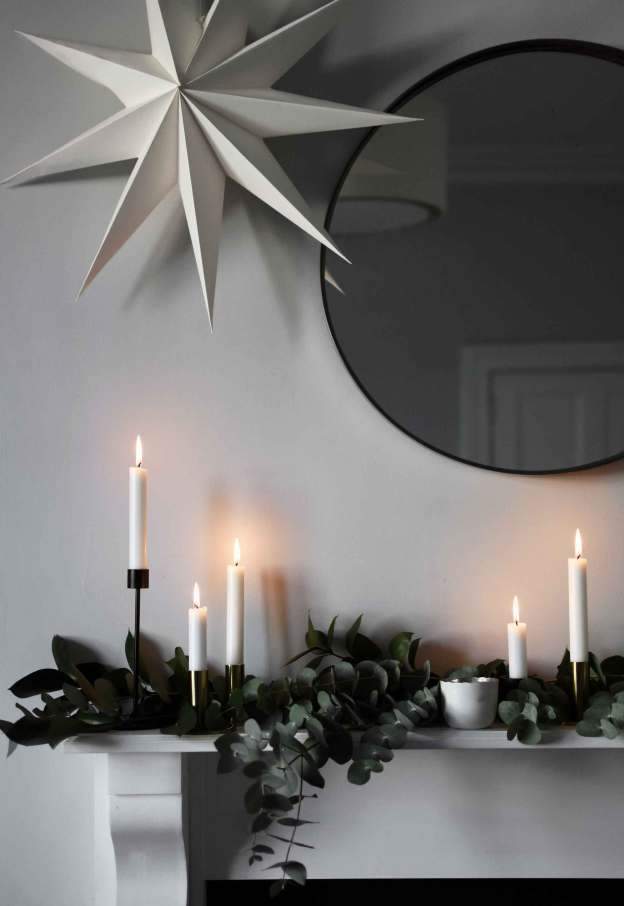 A Minimalist Christmas
As the festive season inches nearer, we take a look at how you can embrace the most wonderful time of the year in your home without compromising on a minimalist aesthetic, and perhaps even move towards a more meaningful Christmas...
Bring the outdoors in. 

Image: These Four Walls
Now, this doesn't have to mean turning your living room into a winter wonderland. A simple nod to nature will suffice. A pine cone garland, the familiarity of the classic Christmas tree in the corner and some festive foliage creates a comforting, natural mood.
For us, Christmas offers up even more opportunities to celebrate our innate love of nature and champion the natural materials we love working with all year round. 
Keep it simple.
Clean lines and a simple colour scheme are just as evocative as multi-coloured bedazzlement. Take your cue from existing shapes and palettes in your home and look to enhance, rather than drown them.
Decorate with intention, showcasing the elements you love and want to celebrate as opposed to throwing absolutely every decoration ever owned at it. Allow the few items you cherish to stand out and bring a meaningful focus to the season. 
Light it up. 
Image: Littlegreenshed via Pinterest
Fairy lights used sparingly and candles at different heights throughout a room create a festive mood better than any bejewelled Rudolph ever could.  
The intimacy and warmth of mood lighting sets the tone for taking a moment to embrace and reflect on the best of the season. Be it with a mince pie or glass of mulled wine in hand, the invitation of simple, warm lighting to slow down and relax is pretty difficult to resist.  
Choose wisely.
Image: Nkuku
Embracing a particular scheme may require new baubles and decorations to create a coherent look so do your research and spend wisely. Choose timeless pieces that can be reused year after year, and opt for sustainable materials such as wood and paper over non-recyclable plastic and tinsel.
Nkuku is a great online ethical homeware store that sells stylish Christmas decorations with great maker stories allowing you to support ethical and eco-friendly values with your purchases. 
Enjoy. 
Be it perusing and listening to your favourite tunes (stored in style in your custom-made vinyl furniture obviously!), curled up under a blanket watching White Christmas for the hundredth time or reminiscing on times gone by with friends over mulled wine, don't lose sight of the true meaning of the time of year.
A minimal Christmas above all, isn't about the 'stuff'. It's about the little things - time well spent, slowing down, sharing moments with loved ones - so savour them.