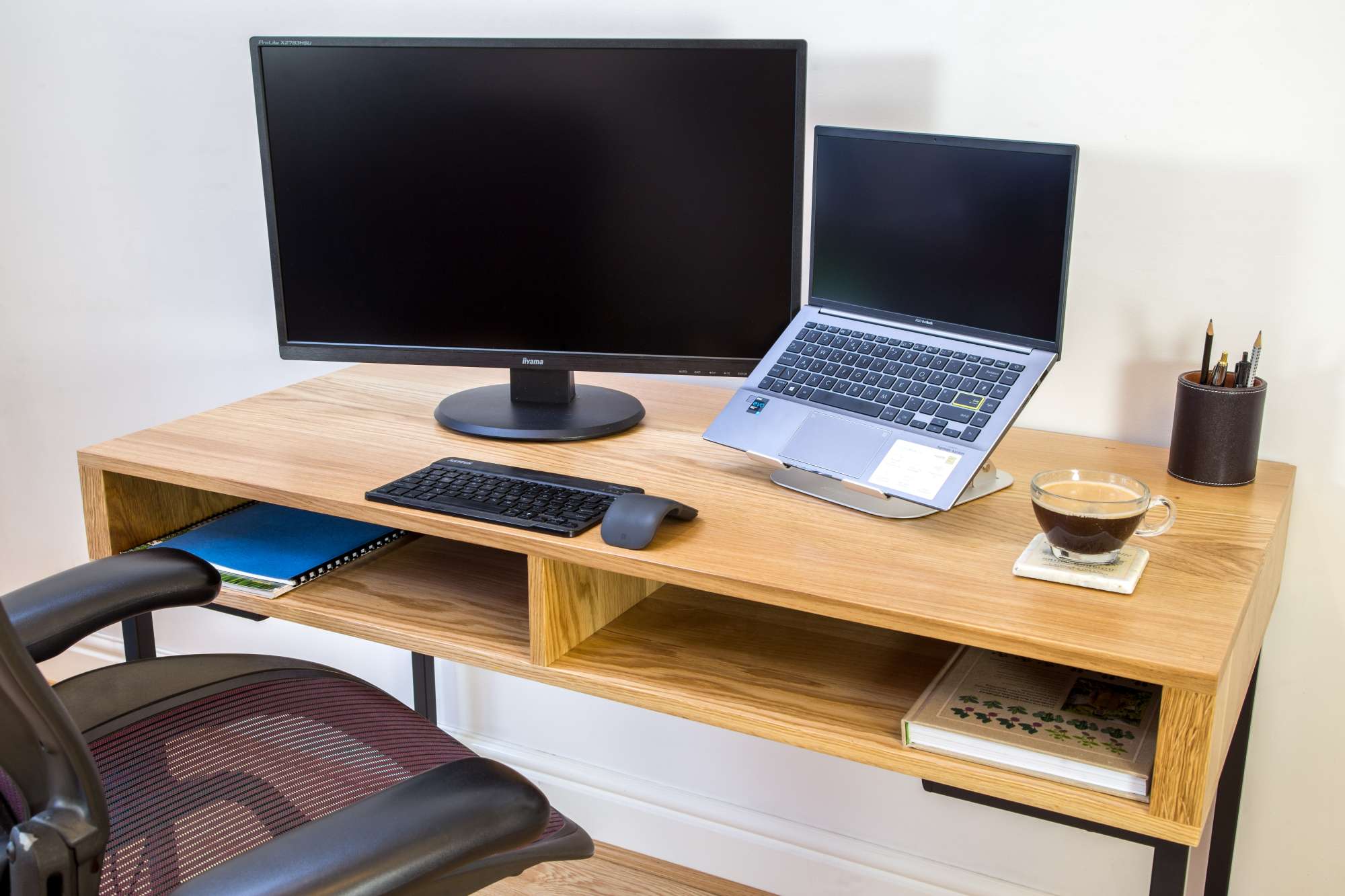 Focus on... desks
When you work from home you quickly realise the importance of having a home desk setup that works perfectly for you. To be productive and comfortable you need your home office to be just right, with a comfortable chair, the right lighting, good connectivity and (ideally) noise cancelling headphones!

A desk setup needs to be the right height and allow enough space for devices and laptops or monitors. It needs to be an aesthetically pleasing space to work, stable, uncluttered and calming.
Finding the right desk, whether you're setting it up in the bedroom, corner of the living room, or dedicated study space, can be a tall order with plenty to think about, from storage, size and shape to the desired design credentials for a desk in a domestic setting (spreadsheets aside, a home desk should be a stylish furniture piece to feel proud of...).

So, what are the essentials to tick off when looking to invest in your workaday, 9-5 companion?
Paperwork, stationery and office paraphernalia soon mounts up, and as (for the most part) it's all needed to hand, it's wise to consider storage options in tandem with desk decisions. 


Drawers or separate drawer units will help keep the surface clutter free and allow you to put the working day away. To avoid simply moving clutter from one place to another, consider c
onqueringyour potential desk drawer junk with an assortment of organisers. Keep pens, post-its, business cards and hard drives in their own compartments to stay organised.
As an alternative to drawers, which allows paperwork to be more easily accessible and visible, our range of
solid wood desks
feature open storage compartments to accommodate the essentials whilst leaving the desk surface clear. 
Keep it organised 
Organisation is king. 
Making sure you have plenty of space to accomplish the task at hand and keeping your home office desk clean and clear will allow you to work better and feel more in control. Dedicate some thought to what desk organisers will work best and how the desk design or shape will influence these choices. 


It's well documented that a clean and well-organised desk comes with a wealth of stress-reducing, productivity-increasing benefits, so consider, too, the need to hide away cables to keep the look as clean-lined and clutter-free as possible. (
Besides adding obviously useful storage space, desk drawers can also be made with cutouts at the back so you can charge your devices out of sight.)
I
f storage space is constrained by available space within a room, find another area of your home for items and supplies that you use less frequently. 
Dimensions make a difference
If your desk dimensions aren't optimal, it can not only affect productivity but also lead to physical ailments. So, it's worth investing in a desk that suits both you and the space.


Available in a variety of widths and depths, our collection of streamlined, minimalist
 and adaptable 
desk designs
 offers choice to find the best dimensions for you and your workspace.
The ideal desk height depends on your chair and how tall you are. The best way to work out the perfect height for you is to measure the distance from your knees to the underside of the desk when you're at a comfortable chair height. Also measure the ideal height you'd like to the underside of your custom desk, and the height you'd like the surface to be. 


The depth of a desk is also important as well as the width. You may be using a three monitor gaming setup or a camera and microphone for video creation. The depth needed to position your keyboard, monitors and other devices will vary, that's why we offer all our desks with a range of depth options.

Height adjustable desks can also be helpful as your elbows and wrists should be level when typing, so, if you don't have an ergonomic chair, you can customise your desk to the correct height.