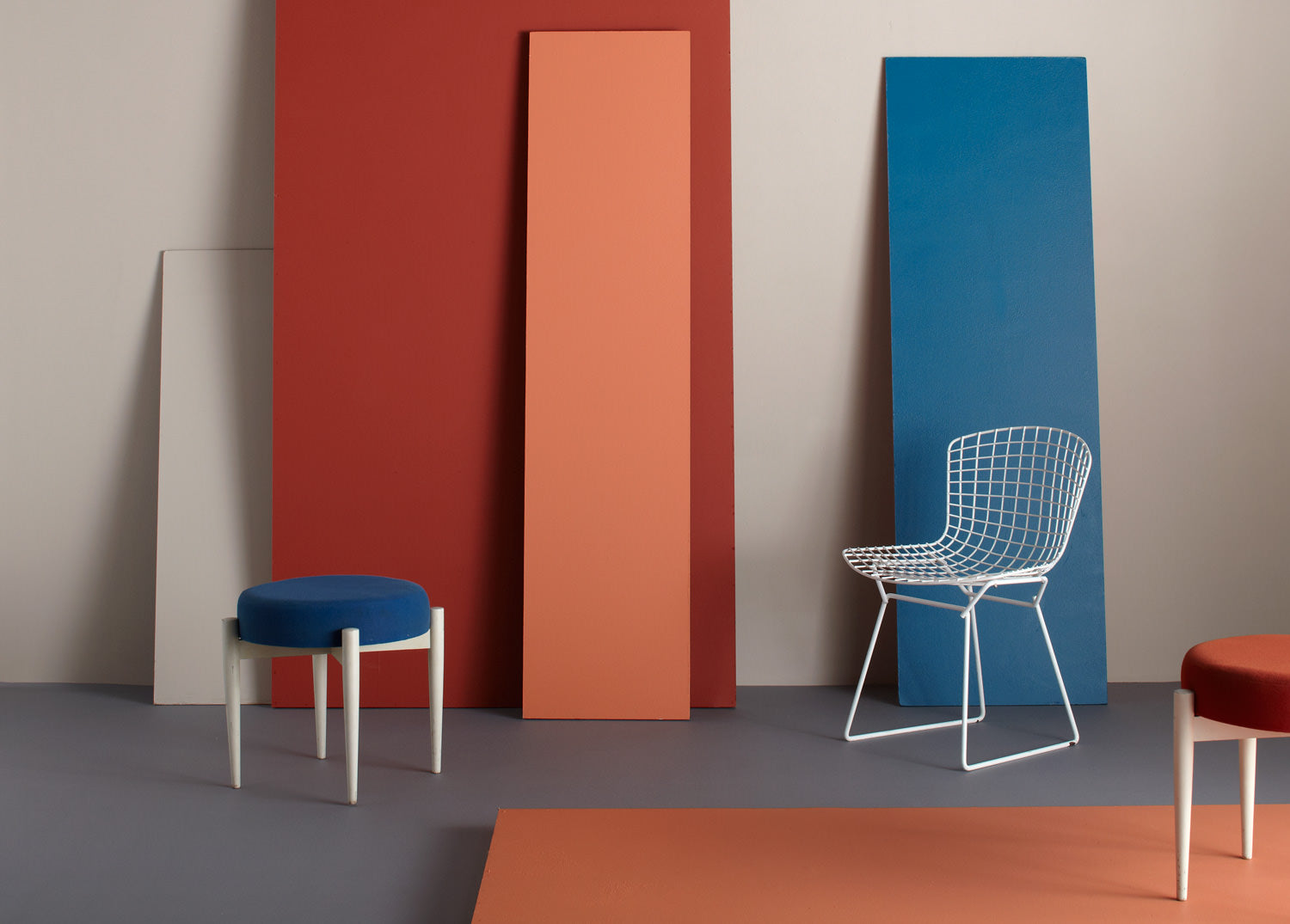 Mid-century modern appeal
The term 'mid-century modern' has a broad reach in design terms. Spanning decades of the twentieth-century with a global influence, it established an enduring benchmark in the design industry which continues to inspire to this day, and its popularity shows no sign of abating. 
Characterised by simplicity and functionality, it gave us clean lines, gentle organic curves, a love for different materials and designers that continue to be admired and idolised today. 
The understated lines of our collection of minimalist, solid wood furniture are directly influenced by the mid-century modern movement, so we thought we would take a moment to consider how this period of design has established such an enduring legacy...
Back to the future
Image: Louis Poulsen
One of the characteristics of mid-century modern design is the juxtaposition of sleek lines with organic shapes, brought to life utilising new (for the time) materials. Whilst these were futuristics stylings they also embraced what had gone before - they were re-imaginings of more traditional forms.  
The hefty English club chair was transformed into the sleek leather-and-plywood Eames Lounger, while Poul Henningsen's Artichoke Lamp was a reconfiguration of a chandelier. 
Having endured two brutal world wars, the ensuing global economics and technological advances led to modern living accelerating into a new era. This, in turn, stimulated new demand for 'modern living' and mid-century modern designers stepped up to embrace the opportunity to build upon the past in order to reinvent and reinvigorate daily living.
These principles of progress, combined with respect for the past, represent values of authenticity and integrity in design that will never go out of style.    
Iconic designers
George Nelson, Edward Wormley, Eero Saarinen, Harry Bertoia, Charles Eames and Jens Risom, featured on Playboy Magazine, July 1961
Image: home-designing.com
The mid-century modern revolution was brought to life by some truly iconic designers. These pioneers helped usher in a new age, with a unique focus on the combination of form and function, to create beautiful furniture that was both practical and accessible.
A selection of designers during this period would have such an impact that their designs would become coveted, and their names iconic, as they paved the way for a distinctive combination of form and function. These designers honed in on the populist message: design should not only be beautifully constructed, functional, and efficient, but attainable.
This crew of brilliant designers became icons, shaping the style with the furniture they created: Eero Saarinen, George Nelson, Charles and Ray Eames, Marcel Breuer, Eileen Gray, Arne Jacobson, Florence Knoll, Hans Wegner and Isamu Noguchi.
They helped bring a new definition of design to the masses and engage new generations in the possibilities of good design - a notion worthy of perpetual value. 
New materials
Image: iconicinteriors.com
Materials were used and celebrated for their innate characteristics rather than disguised, as new methods of construction became available. Designers could play with form like never before, introducing moulded contours and fluid lines to create futuristic, sculptural pieces. 
Plastic was used for its own qualities rather than to imitate wooden furniture. Alongside this there was liberal use of traditional material, including wood, and non-traditional materials such as metal, glass, vinyl, plywood, Plexiglass and Lucite.
These industrial materials were integral to the designs and no attempt was made to soften or disguise them, embracing an honest approach to design that celebrated construction; plywood chairs celebrated the shapes that could be created with the material, and Warren Platner's elegant dining chair made no secret of the fact that it's made from steel rods.
This innovation of material, and the understanding that the construction of a design can enhance its form, introduced an enduring and admirable authenticity to the design world. 
Complementary counterparts 
Image: 1stdibs.com
While some people argue that mid-century modern has become more of a term for modern design in general than a specific aesthetic, part of the struggle to reach a definitive definition may come from how wide-ranging the style is. An element of that is due to the two diverging (yet complementary) directions of the time. 
American-based modernists advocated industrial materials and the efficiency of mass production, while their counterparts in Scandinavia (the Soft Modernists) were dedicated to the longstanding tradition of crafting their chairs and tables out of natural elements, like wood and leather, favouring the handmade to the mechanical processes.
The end result? A design movement that embraced both ends of the manufacturing spectrum and consequently generated mass appeal. These furniture pieces spoke to an extensive audience, almost akin to 'something for everyone' - it's no wonder these designs continue to resonate today.  
Enduring appeal
Image: livingetc.com
So, how have these designs been so resilient over the years?
Ultimately, they were designed for a way of living that is still, essentially, our way of living. They offer comfort and practicality without sacrificing on style - they appeal anew to each rising generation of young people seeking to furnish their homes.
Mid-century design has yet to be bested by any other movement, so it remains the style of our own time. Its continuing allure and popularity lies in its ability to simultaneously take us back to the nostalgic charm of the past while also propelling us to consider the infinite, hopeful possibilities of the future.
Header image: modernshows.com