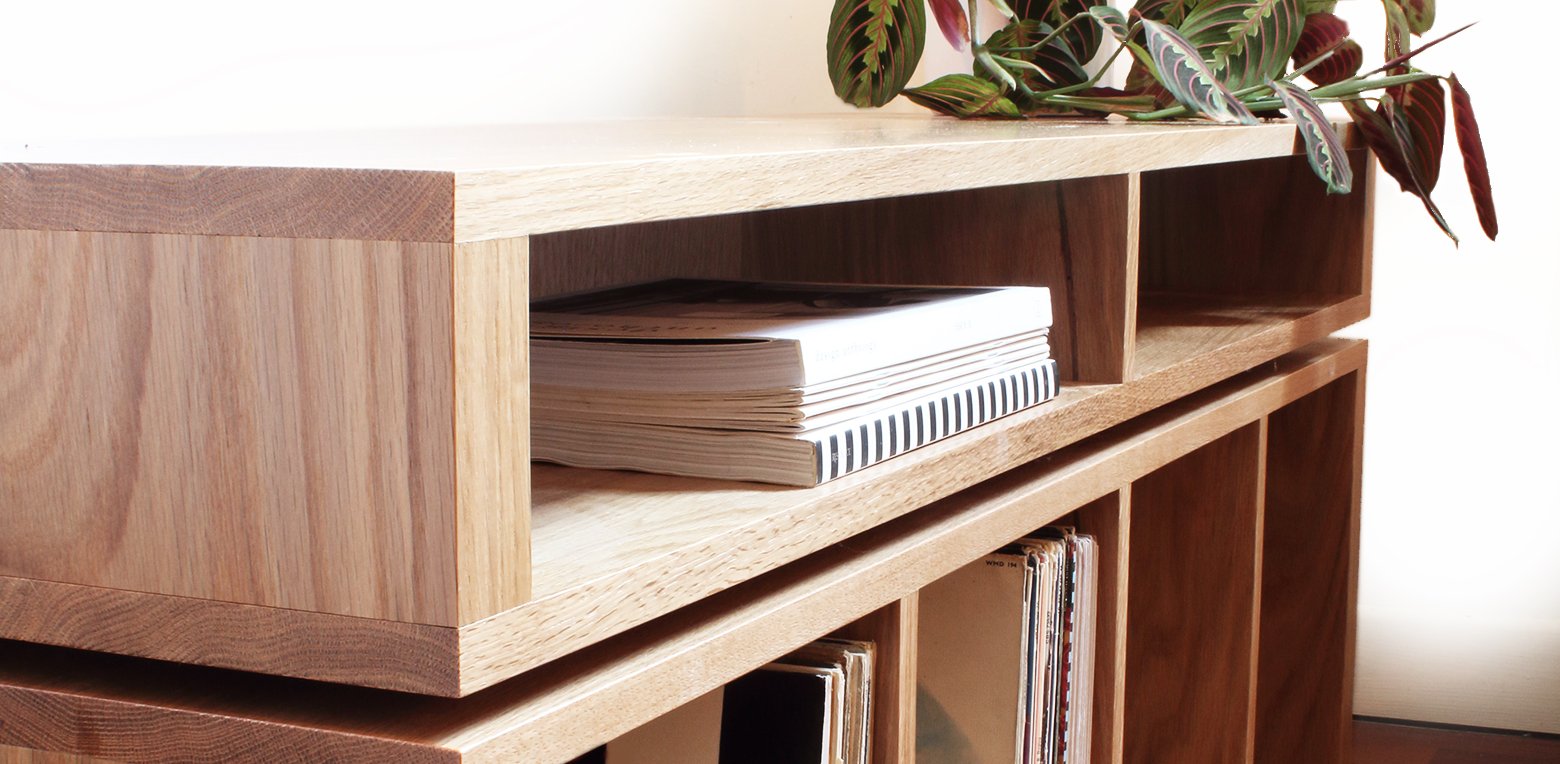 Ten reasons
We are dedicated to offering a different way of buying high-quality, solid-wood, sustainable furniture. Championing certified materials and flexibility in design to create a range that suits you and will last a lifetime. 
Here are our top ten reasons why we're proud of what we do...
1. Built to last. 
Our furniture is designed with a timeless, minimalist aesthetic and made in the UK using sustainable, high-quality hardwoods; it can be tailored to fit your space and style to ensure that it is a piece that will last for decades, if not generations.

   
2. Customisable.
Each piece in our collection can be customised to fit a specific space or need and your preferred style.
A whole host of adjustments can easily be made to an existing design - choose your width, height, legs, wood and finishes to create a combination that best suits your space. 
Or if you have a more specific requirement we can create a made to measure piece; be it an exact size to fit an alcove, a certain height to match other furniture, doors and drawers, a different wood type to complement an existing piece, or interior dimensions to fit odd sized equipment.
All our furniture is then made to order in around 4-6 weeks. 
3. Solid wood. 
Wood is a long-lasting and robust material with innate stability and reliability. This durability ensures that solid wooden furniture offers sound value for money as well as easy maintenance (waxing, polishing or oiling only need to be carried out occasionally).
We use a select range of certified timbers that complement the linear forms of our designs, highlighting the beauty of the wood, allowing the natural character and individuality of the material itself to take centre stage. 
4. Easy to assemble.
In a seamless blend of form and function, establishing an easy method of construction for each piece has influenced the evolution of our designs. 
The end result is a distinctive form of cabinetry where component parts are assembled with specialist fittings in such a way that they appear to float elegantly above each other.
5. Sustainable design. 
All the timbers we select are certified, from sustainable sources. We only use either FSC or PEFC certified timber to ensure the resources we are taking are responsibly replenished. (Certified timber is a sustainable resource; contrary to the belief that cutting down trees is destructive, dedicated management of the world's forests ensures their ongoing future and helps grow more trees.)
Wood is the only renewable building material that helps tackle climate change. Not only does it remove carbon from the atmosphere but it also reduces new carbon emissions going into the atmosphere. Sustainable wood furniture stores the carbon that the growing trees have removed from the air (about 50% of the dry weight of wood is carbon) and the production and processing of wood uses less energy than most other materials, giving wood products a significantly lower carbon footprint.
6. Bespoke options.
We can also design and make a piece of bespoke furniture just for you. Choose from shelving, tables and benches, statement coffee tables and more, all made from the same high-quality materials.
We'll need to know as much as possible about what you want to achieve so send us as much information as you can - we can even set up a Pinterest board to share images and ideas.
We can send you pictures of samples, or actual samples of wood (small postage cost may apply) and work with interior designers, equipment suppliers and specialists manufacturers to design truly bespoke furniture solutions.
7. Flat pack benefits.
We bring together the character and quality of solid wood with the flexibility of self-assembly furniture.  
Specialist fittings allow for easy assembly and easily transportable sections minimise the risk of damage in transit.
8. Buy better.
We offer a range of designs following our particular brand aesthetic but giving you the freedom to customise to suit you and make further additions and choices based on that product. Hopefully, ensuring that the finished piece of custom wood furniture will be around a lot longer than its off-the-shelf cousin.
We should all be aiming to buy better and buy less. We hope to add convenience to that process.
9. Useful and beautiful.
Every piece in our furniture collection has a clearly defined purpose, bringing together practical storage and function with contemporary lines and elegant design, to create a range with a mid-century modern edge that is both useful and beautiful.
10. Versatile furniture.
The minimalist, mid-century inspired lines of our collection create streamlined, versatile pieces that can be multi-functional to evolve with your changing interiors and needs. 
A coffee table can become a TV stand, low sideboard or bench while a home office desk could relocate to become a hall console table. 
Architecture is being called upon to reshape our spaces; we take a closer look at the potential developments that may impact on the design and construction of our housing... 
Read more
Our collection of furniture embraces a minimalist aesthetic, so we take a moment to consider why we champion the simple approach to design...
Read more