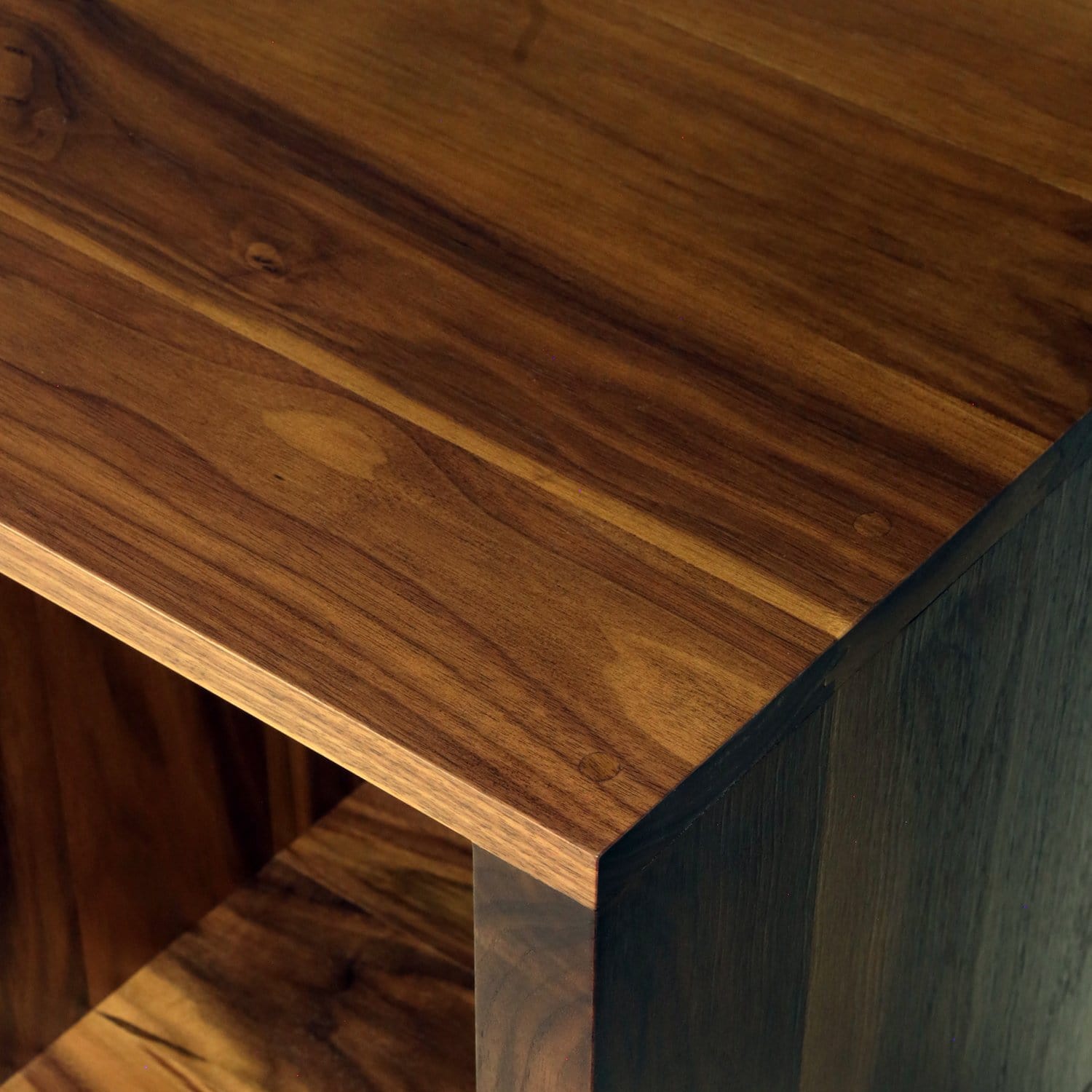 Walnut
Walnut is a wonderful wood to use for premium furniture. It's one of our personal favourites for its deep, dark and sophisticated character, with its chocolate tones and flames of light sapwood in the dense grain.
When walnut planks are cut from the trunk of the tree they range from a light buff colour from the outer part of the tree - the sapwood- to the classic warm, rich and dark tones found at the heart of the trunk. This gives it an exciting unpredictability that makes each piece of furniture truly unique. 
Our walnut furniture
Walnut lends itself well to linear, pared-back furniture designs where the focus is all on the quality and character of the wood being used. We don't try to hide the uniqueness and variety, instead, we showcase its solid, natural beauty! It's hard to describe the unique colour, tone and grain pattern so these walnut furniture examples should demonstrate the kind of dark wood colour you can expect.
Condor Vinyl Storage Cabinet
The Condor is a simple, minimal design for storing vinyl records on classic mid-century style legs - a refined, elegant finish which showcases the unique tones of walnut beautifully. The walnut design shown here is 120cm wide (47"), with 30cm (12") black hairpin legs. 
Kelston Record Player Cabinet
The Kelston record player stand has an added upper compartment for housing amplifiers or other equipment, so that a record player can sit on top, with vinyl storage below. The sophisticated walnut wood complements an investment in a high end hifi setup - it's a beautiful choice for the design conscious audiophile! 
Our flagship Kelston record player cabinet shown here in a 120cm wide size in walnut with black hairpin legs.
Like all our other designs this one is completely customisable - we can add doors, drawers and adjust all the dimensions to create a bespoke piece designed to fit your space. The upper section height can be adjusted to perfectly fit your equipment, with just right room for airflow. See our custom design page for more information here.
Walnut lends itself really well to minimalist inspired designs like this Henley TV stand set on mid-century hairpin legs which illustrates all the character and natural variation of the wood with its low, flat surface.
The same design also suits our Square End Leg for a more minimalist look, as shown here on the Henley Minimal TV Stand with the legs finished in a dark Graphite colour.
Each piece of walnut furniture is completely unique although it is possible to use just the darkest parts for very high-end pieces where an even colour is a must - we can also stain the lighter areas to blend the whole piece together to a similar tone whilst still showcasing the natural variation. 
Stack Record Player Stand
The Stack record player stand is designed for a small but very special collection of vinyl, and it perfectly suits a compact, premium hifi setup. 
Marston Desks
Our Marston design can be adapted as a narrow console table or a deeper, wider desk. A solid walnut desk is a truly special investment that will make your working from home space a delight and a pleasure to be in. 
All our walnut furniture designs are completely customisable, and if you're looking for something else to complement your walnut furniture check out our CUSTOM DESIGN page or CONTACT US. 
Your collection is epic, rare, it spans whole walls. Chances are then, you know it's important to store your precious library carefully and intelligently, so here are our cardinal rules for gettin...
Read more