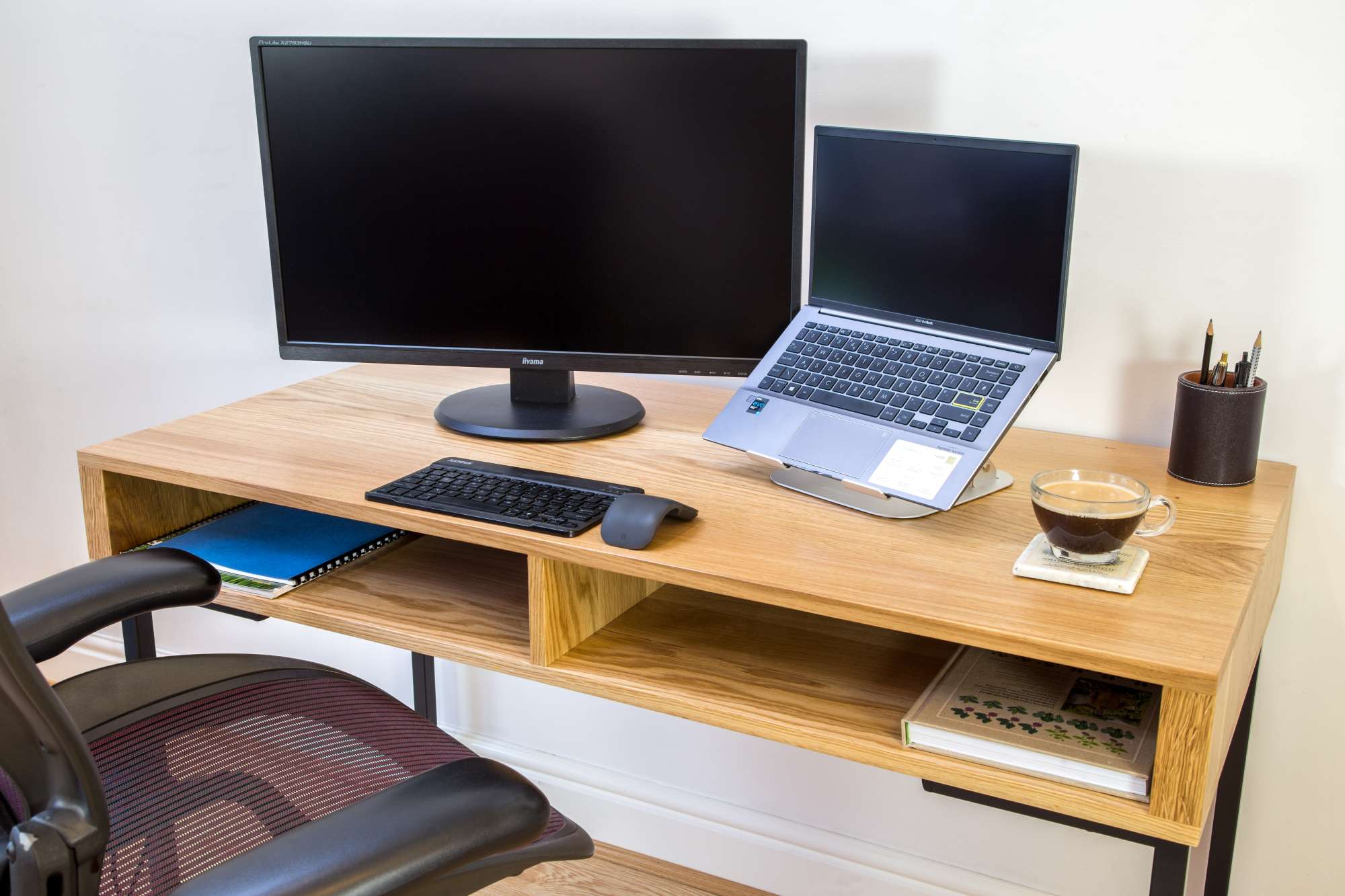 Work from home
As the nation continues to get to grips with ongoing, long term ramifications of living in an inter-pandemic era, working from home continues to be the reality for many of us. And looks set to be the status quo for some time yet. 
COVID-19 has forced companies around the world to embrace remote working, with many predicting that working from home will be here to stay long after the virus has been brought under control. Consequently, while only a couple of years ago architects and designers were trying to make offices more homely, now the challenge is how to carve out an office space in the home.
We've brought together our essentials for creating a functional and beautiful workspace in your home...
1. A desk designed for you
A desk setup needs to be the right height and allow enough space for devices and laptops or monitors. It needs to be an aesthetically pleasing space to work, stable, uncluttered and calming.
Our range of solid wood desks can be customised to fit your space and lifestyle, combining practical multi-functionality with a clean, streamlined finish.  
Our minimalist and mid-century designs are made using solid oak, ash or walnut and are available in a choice of leg styles and heights to allow you to create the perfect space. Each solid wood table design can also be customised to your needs including adding drawers, cable cutouts or trays and bespoke dimensions to fit your room. 
2. Stylish, ergonomic seating
Image: Vitra
Designers Edward Barber and Jay Osgerby designed the original, ingenious Tip Ton chair for Vitra in 2011 but last year saw the launch of the Tip Ton RE, notable for its use of plastic recovered from household recycling collections in its manufacture. 
The high-quality recycling material used stems from recycled household waste, particularly used packaging. Utilising this raw material instead of petroleum-based primary plastics generates 54% less climate-damaging emissions, with a significant reduction in primary energy consumption.
The innovative Tip Ton also defines a whole new chair typology: the solid plastic chair with a forward-tilt action. Until the Tip Ton, the tilt action which straightens the pelvis and spine and thus improves circulation to the abdominal and back muscles, had been the preserve of the bulkier, less aesthetically-pleasing mechanical office chairs. 
3. Task lighting
Image: Louis Poulsen
Legendary Danish designer Arne Jacobsen first designed the AJ Lamp series for the SAS Royal Hotel in Copenhagen in 1960. To mark its 60th birthday, lighting brand Louis Poulsen relaunched the desk lamp version last year. 
The lamp's minimalist lines, distinctive shape, combination of oblique and right angles and flawless emission of light means it is well suited to task lighting. The fixture emits downward directed light and the angle of the shade can be adjusted to optimise light distribution. The shade is painted white on the inside to ensure a soft comfortable light.  
The lamp series was originally only available in light grey, dark brown and black but new colours ranging from Rusty Red to Pale Petroleum were introduced over the years in celebration of the series' jubilees. 
4. Minimalist organisation
Image: Ferm Living
Master the art of organising with the sleek and sturdy 2x2 Organiser, designed by Jamie Wolfond for Ferm Living.
Each unit that comprises the 2×2 Organiser series is made by folding two sheets of steel twice and welding them together (providing the inspiration for its name). The result is a simple set of office storage modules with the inherent ability to register when stacked.
This minimalist design keeps desks clear, organised and clutter free.